Mikoto Elementary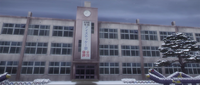 Mikoto Elementary is where Satoru completed his primary education. In 1988, the school was subjugated to controversies, after two of its students, Kayo Hinazuki and Hiromi Sugita, were kidnapped and murdered. Upon discovering his mother's murder, Satoru is sent back in time to February 15, 1988 by a large-scale Revival and has to re-attend in Mikoto.[1][2]
Gaku Yashiro and his older brother attended school here. As part of a two week teaching practice Gaku returned during his third year of college.
Oasi Pizza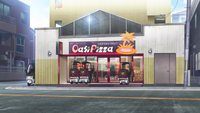 Oasi Pizza is a Pizzeria in Satoru home town. He is employed as a part-time worker delivery boy together with Airi Katagiri. The restaurant is managed by Takahashi who took the business over when his father retired. After being brought up in the city's council, Manabu Nishizono provided a new traffic light change and build a cross walk at Oasi to to add to its visitor count.[3] It's logo is an orange palm tree on an island, like you would find in an oasis.
See Also
References